Editor's Note
On 20 Dec 2022, MVI published an article:
of angry  responses from veterans to a piece  by Parth Satam in Eurasian Times on 18 Dec 2022: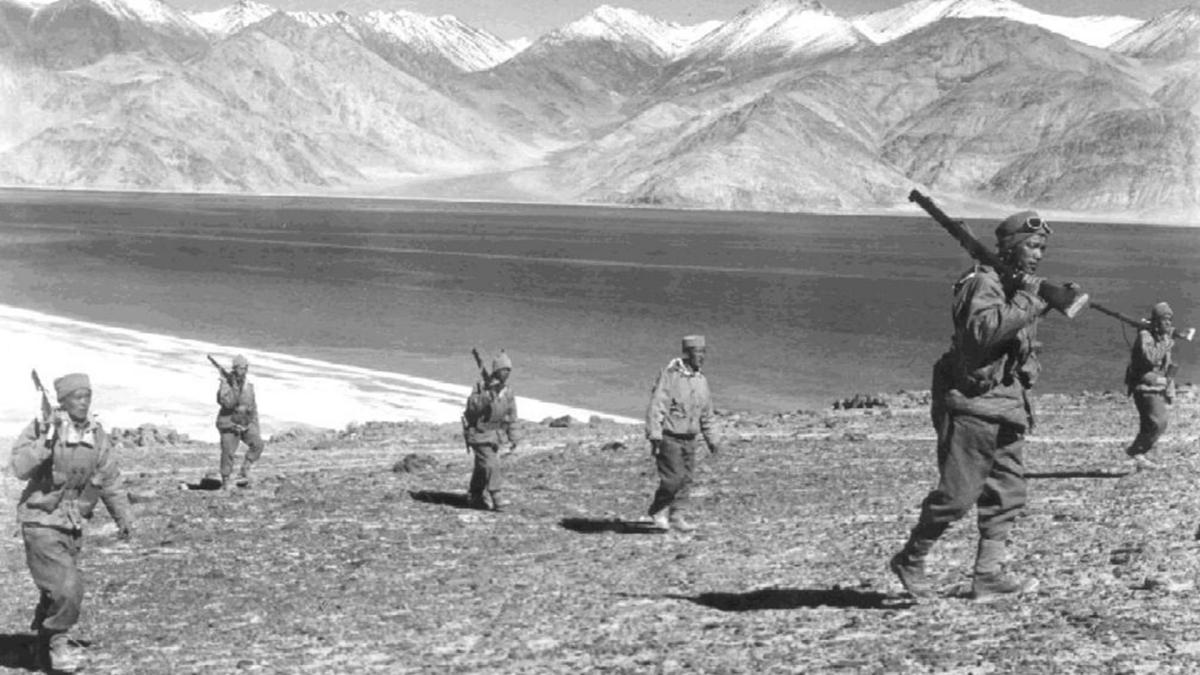 that supported the theory propounded by Sandeep Mukherjee in context of the 1962 Indo - China War titled "The Reality of a Military Defeat". Thereafter, MVI received a personal request from Sandeep Mukherjee to publish his article in MVI.
The article received is published by MVI (document below) with two counter views from our veterans Brig BL Poonia and Col Rajinder Kushwaha. We request readers to kindly peruse both the article and its counterviews to form their opinions and reach their own conclusions in context with the facts and reality of the Indo - China War of 1962.
Sandeep Mukherjee Article:
Editor, MVI
---
Counterviews To The Article
Brig BL Poonia
A war does not begin with tactical decisions. It begins with political decisions. And the first and foremost requirement before waging a war is that the nation must stand on a 'Moral High Ground'. Strategy, operations and tactics are only the successive steps that follow. If we have faltered morally, strategically and operationally, we have no justification in pin-pointing tactical flaws. That is akin to blaming a soldier who fought so valiantly during the Battle of Balaclava (1854), during the Crimean War, and not blaming the commander who ordered the 'Charge of the Light Brigade'. In fact, it is the commander, and commander alone, who deserves to be blamed. History repeats itself because we were not listening the first time.
The first question is : "What made us lay our claim on Aksai Chin (i.e which Treaty), and as a consequence to adopt the 'Forward Policy' to capture the same ?" Forward Policy was nothing but a policy to capture Aksai Chin, without launching a full-fledged all-out offensive. It involved venturing into the Chinese territory. The British never ventured beyond the 'Alignment of the British Boundary Commission 1846-47'. They respected the '1842 Treaty' between the Tibetan govt and Maharaja Gulab Singh.
In fact, the Forward Policy sprang from Pandit Nehru's belief that 9/10th of the claim was justified by physical occupation, which was strengthened by the advice of BN Mullik, the Intelligence Bureau Chief that China was not capable of facing India militarily.
If you want peace with your neighbour, the boundary issues should ideally be resolved through negotiations, but Pandit Nehru had already shut the doors to negotiations on 01 Jul 1954. According to AG Nooarani's book  - " India-China Boundary Problem 1846-1947 : History and Diplomacy ", Nehru's refusal to negotiate, and the Apr-1960 rebuff to Chou En-lie when he visited Delhi to settle the boundary issue, had sowed the seeds of 1962 War.
As per Nooarani, "It was a fateful day (01 Jul1954), when old maps were burnt. One former Foreign Secretary told this writer how, as a junior officer, he himself was obliged to participate in this fatous exercise. It is speculated that the official was Mr Ram Sathe, India's last Consel General in Xinjiang and later Ambassador to China." In fact, the book is dedicated to him, and mentions that new maps were printed showing Tibetan frontiers without any reference to any line. Nehru also wanted that these maps be sent to embassies abroad and introduced to the public in general and be used in schools and colleges. Noorani states that as late as 1950, the Indian maps showed the boundary as undefined. A century old problem was neglected, by a conscious decision in 1954, which acquired the dimensions of a boundary dispute in 1959. Nehru refused to resolve it in Apr 1960 when the prospects of a fair settlement were bright, and instead the dispute was sought to be resolved by confrontation, which began with the implementation of 'Forward Policy' in the winter of 1961-62, resulting into many clashes and many casualties.
Chou En-lie during his Apr-1960 visit offered a fair and a reasonable solution : "You keep what you hold, you take anything in dispute and occupied by neither, and we keep what we hold." China's stand was that India accept Aksai Chin and China would accept McMahon Line. The delegation had come via Burma where they had accepted the McMahon Line. The Communist Party of India suggested Nehru to be reasonable and accept the proposal but the Jan Sangh resorted to the high-sounding political rhetoric, "We will not give an inch of our territory". A divided 'Cabinet', an irresponsible 'Opposition', an uninformed 'Press' and restive 'Parliament', all fed on bad history, held Nehru hostage.
Historically and geographically, it is a misconception by Shri Sandeep Mukherjee to say that Khinzemane Post in the Kameng Sub Division of NEFA belonged to India. It was established by India across the McMahon Line on 07 Aug 1959,  when the Chinese Army (PLA) pushed it back. Two days later India reoccupied it. For three years China kept protesting diplomatically, but Nehru refused to listen. So did the Indian Army cross the McMahon Line at at Longju and Tamaden in NEFA, from where the Chinese pushed it back. Now India has erased the McMahon Line from all her maps, hence the public gets a distorted one-sided view. A unilateral Boundary Line has been drawn, without being ratified by both the countries. Hence China is not obliged to accept it.
Similarly, establishment of Dhola Post on 04 Jun 1962, across the McMahon Line, South of Namka Chu was another transgression, to which Lt Gen Umrao Singh Nathawat, GOC 33 Corps had strongly opposed terming it as a tactical liability. When Brig John Dalvi queried the wisdom of establishing Dhola Post, which could invite Chinese reaction, he was asked to 'lay off', as it was a matter of national policy. Actually it was an Assam Rifles post, and Assam Rifles was till then, not under the operational command of the Indian Army. It was directly controlled by the Governor of Assam, who was acting on the orders of Pandit Nehru. Capt Mahavir Prasad, MC of 1SIKH, had only been made available to help Assam Rifles establish the post. The Army's role ended there. Moreover, even if the Post had been established at a wrong place by mistake, should that mistake have not been corrected when the Chinese objected to the same and invested it on 08 Sep 1962, and requested India to withdraw the Post ? Nehru refused to budge. Adamancy of approach led to the 1962 War. China had no reasons to accept getting bullied by India like this; militarily, she was far too stronger than India.
The senior Indian military commanders were also parroting the policy of Nehru that 9/10th of the right over the territory gets justified by physical occupation. That's why when the Chinese retaliated by firing during the Indian Army's occupation of Firm Base on 10 Oct 1962 at Tseng Jong on Thagla Ridge, Lt Gen Kaul commented, "We occupied Tseng Jong in the hope that so long we hold a particular piece of ground, it would remain ours and unchallenged - as in the past."
This is where India faltered. By now China was fed up of all her diplomatic protests being completely ignored, and therefore decided to launch a massive counter-offensive, both in NEFA and Ladakh Sectors. She captured all her claim areas, declared a unilateral ceasefire and moved back to pre-war positions. It was a punitive military expedition to tell India that boundary problems cannot be resolved through use of force. Then she invited India for talks, but now India was left with no face to face the Chinese leadership.
What made Nehru to ask the Indian Army to 'throw out the Chinese' from Thagla Ridge (their own area), an area five kms across the McMahon Line? It was only to pacify the public opinion. The govt had become a prisoner of its own facile pronouncements and drawing of boundary lines unilaterally.
Even the very act of deployment of 7 Infantry Brigade by Lt Gen Kaul along the Namka Chu (clearly across the McMahon Line), and tasking the Brigade to capture Thagla Ridge, five kms inside the Chinese territory, was nothing less than challenging a military superpower. And the deployment of the Brigade by Lt Gen Kaul in the low-lying area of Namka Chu was a clear-cut case of putting it in a death trap when the Chinese were occupying Thagla heights. Moreover, he had no business in thus interfering in the tactical deployment of the Brigade. His job was to issue an Operational Order, assigning the Brigade a clear cut task, which he failed to do.
Artillery support, which is so crucial for the conduct of a defensive battle, to break-up enemy assaults, to counter bombardment, to silence the enemy guns, and to neutralize infantry weapons, was totally missing. Why ? Since Artillery is not an integral part of an Infantry Brigade, it it fair to blame the Brigade Commander ? Moreover, why were the Defence Stores not provided to lay obstacles in front of the defended localities ? Did anyone issue an Operational Order tasking 7 Infantry Brigade to defend Namka Chu or Hathungla Ridge, listing out the additional resources to be made available ? No. Every order was verbal, on an ad-hoc basis. Even after personally ordering the Brigade deployment and asking the Brigade to capture a Firm Base on Thagla Ridge, when the Chinese retaliated strongly, Lt Gen Kaul told Brig John Dalvi, "It's a Brigade battle; it's your battle." If that was so, he should have given full latitude to the Brigade Commander. In fact, he failed to fulfill his responsibilities as a Corps Commander. Why were the  Extra Cold Clothing (ECC) not provided ? An Infantry Brigade without the tools of war cannot be expected to undertake any operation, whether it is Attack, Defence, Advance or Withdrawal. Brig John Dalvi has clearly highlighted in his book 'Himalayan Blunder', the condition of our troops : "Our troops walked up from Misamari (Assam) to Namka Chu in torn canvas boots. The rubber soles and toe-caps had perished. Some vomited blood at Sela." Who was responsible for this? Definitely not Brig John Dalvi. It was the higher military leadership.
Moreover, did anyone issue an 'Intelligence Appreciation' regarding the Chinese intentions to attack, and spell out the expected force level ? No. Because as per the IB Chief, China was not in a position to attack. Hence the entire Indian Army was taken by complete surprise. But when it came to blame-game, Commander 7 Infantry Brigade was found to be the easiest available escape goat. In fact, he should have been honoured for his courage - both physical and moral. Let us not quote the official history, which was written by Lt Gen Kaul himself, the man responsible for the NEFA debacle, since he wanted to get away by blaming his subordinates, when he himself was squarely responsible for every decision. There was nothing official about that history.
Moreover, what made India occupy and establish 40 military posts in Aksai Chin, in spite of the active objections of Lt Gen Daulat Singh, the Army Commander Western Command, and establish 24 posts along the McMahon Line against the spirit of Apr-1960 Delhi Summit, and establish 'Dhola Post' across the McMahon Line, in the Chinese territory ? What made Pandit Nehru order the Indian Army to 'throw out' the Chinese out of their own area - the Thagla Ridge, five kms across the McMahon Line ? And why did the Chinese declare a unilateral ceasefire after capturing all their claim areas? What made the Chinese withdraw to pre-war positions on their own and invite India for resolution of boundary issues, which again India refused ? Closing our eyes and ears to these vital questions of national importance leads to an unending debate that can continue till eternity. Historical facts don't cease to exist, just because they are ignored.
Boundary Resolution involves five steps : Talks, Negotiations, Delimitation of Borders (on maps), Signing of Treaty, and Demarcation of Boundary (on ground). But Nehru maintained that while he will talk, he will not negotiate. Was Pandit Nehru on the right lines ? Was he fair and reasonable in his approach in dealing with a neighbour ? And what have we gained by his unreasonable and adamant approach ? We are suffering till date.
As regards following the 'Water-shed Principle' in 'Delimitation' or 'Demarcation' of boundaries, it has to be decided mutually by both the countries. 'Water-shed Principle' being the most convenient method, is generally agreed upon, but it is not an international compulsion. It is nothing but a matter of convenience to be agreed upon mutually. However, since there has not been any Treaty for the ratification of the boundaries, we can not use the application of this Principle in isolation. Moreover, even if both the countries mutually agree upon the 'Water-shed Principle' for demarcation of boundaries, the International Boundary would then pass over the crest-line of Hathungla Ridge and not that of Thagla Ridge; you can't just jump over to the next Ridge. But in the absence of a Treaty, we cannot apply any of the principles for demarcation of the borders. Hence we need to understand the 'Water-shed Principle' in its correct context.
The biggest mistake Pandit Nehru made was to take advantage of China, by launching the 'Forward Policy', assuming her to be militarily a weak country. It was a clear-cut case of pride and arrogance of mis-perceived might, on the part of Pandit Nehru, which led to the war. And once that happens, then it is not for a patch of territory, it's something much more precious than that, the national pride. Pandit Nehru had hurt the Chinese national pride, and India paid a heavy price for that.
What prevents any govt to declassify the 'Henderson Brooks Report' even after 60 years is not that there is still anything not known to us, but because that would become an official admission of the fact that India was the aggressor, through its Forward Policy, and that would bring India rolling down from the 'Moral High Ground', it claimed to have stood during the 1962 War. The problem lies precisely there, hence no govt can afford to do so, because every govt and every political party has been blaming China since 1962.
Col Rajinder Kushwaha
He is totally waffling without any material evidence of his theory . He has given no proof of his derivations. Inferences he draws therefore are lacking in conviction. It is worth trashcan than publishing it .
HBR was purely a military inquiry of the incident with limited scope . It was not a truth commission by GOI.
There is enough evidence available of Nehru's initial Honeymoon with China and then divorce after Bandung Conference in 1954 when:—
He acquired international status along with Marshal Tito and Abdel Nasser .
In 1954 , Nehru had learnt of Tibet Highway ( G 219) under Construction . He therefore got suspicious of Chinese intentions .
Nehru had claimed AksaiChin — this is why he had rejected Chiu En Lai offer in his 1960 visit to Delhi to barter Aksai Chin for NEFA .
---
(Views expressed are the respondent's own and do not reflect the editorial stance of Mission Victory India)
For more defence related content, follow us on Twitter: @MVictoryIndia and Facebook: @MissionVictoryIndia