Editor's Note: On 31 Mar 2014 India Today published an article written by renowned Defence Reporter Sandeep Unnithan. It throws light on the HB report. This article is being published on the occasion of the 60th anniversary as a grim reminder of the 1962 debacle.
Response from Col. Rajinder Kushwaha (Retd.) (To continue the debate)
Pandit  JL Nehru was a great leader of India but he can not be absolved of the responsibility of the debacle of 1962 war. Henderson brooks report had allegedly held him responsible , along with some others. But, it seems, Henderson Brooks report does not exist now in Govt vaults. There was only one copy and it was removed between 1963 and 1990.
Neville Maxwell, author of India's China war reveals some portions of it. In this revelations he blames Guilty men of 1962. This revelation by Maxwell was published by India Today on 31 Mar 2014 that can be accessed on the link below:-
But why do you want to see the HB report when enough revelations have been made in Himalayan Blunder by Brig. JP Dalvi?
We must also know that Terms of Reference of Henderson Brooks investigations were very limited. Therefore he could not have done full justice to it.
The towering image of Nehru had made him almost a dictator — he refused to listen to others. Sardar Patel had cautioned him on China and not to accept Chinese occupation of Tibet. But Nehru, not only accepted Tibet as Chinese territory but provided logistic support. Patel's letter to Nehru in 1950 bears testimony to this. Unfortunately Sardar Patel, who could question and check Nehru   died soon after.
In 1954 , it was revealed to GOI that China was constructing a Highway to Tibet . It was authenticated by an Indian Patrol led by a Lt Col from Kumaon Regt. But VK Krishna Menon and Nehru ignored this report.
It is a fallacy that JAN SANGH punctured Chou En Lai's offer of bartering NEFA with Aksai Chin in his visit to India in 1960. JL Nehru had such phenomenal hold over India that no one could challenge him. Jan Sangh had no more than 4-5 MPs then. One must note occupation of NEFA ( South Tibet) by Major Bob Khathing in 1951 on the prompting of then Assam Governor Daulat Ram Jemindas, who did it without Nehru's permission. Nehru had bullied Maj Bob Khathing when he learnt of this.
The fact is that by 1954, Nehru had realised the blunder he had made in 1950 by accepting Chinese suzerainty over Tibet and losing the advantage of a BUFFER between India and China. Sardar Patel's warning of 1950 would have cautioned him after 1954, when he came to know of construction of Tibet Highway. Also, after Bandung Conference of 1954, his international image had risen very high. And along with Marshal Tito, Nasser, he had become the leader of Non-Alignment and Third World. This is why he gave asylum to Dalai Lama in 1959.
1962 war was the product of Nehru's confusion about China. He lacked pragmatism on world affairs, when he rejected US offer of permanent seat in UNSC and also took the Kashmir issue to UNO. He was a great votary of peace and non-violence but lacked practical wisdom on defence and security matters, when he had told his British Army Chief on his proposal for funds for the modernisation and upgradation of armed forces to say (or words to that  effect): "What Rubbish! We have no enemy. We can do without Army. Police will do the job". His craving  to go down in history as an apostle for peace was his undoing on real-politic of the world, which led to Mao Ze Dong's "Teach a lesson to Nehru" War of 1962, as revealed, in his memoirs, by Kissinger, erstwhile US Secretary of State with President Richard Nixon.
To cut the long argument short, Nehru had no idea of the strength and weakness of his armed forces, when he ordered , "Evict the Chinese" from Columbo in Oct 1962. On top of it, he had "Sifarshi" Generals as his advisors accompanied by a Chinese sympathiser, VK Krishna Menon, as his Defence Minister. Galwan Valley incident of July 1962, should have raised his heckles. But he took no action, nor his "Generals" objected to his " Forward Posture". Krishna Menon had assured him that Chinese won't respond. But they did and did it with a knock out punch — which led to debacle in 1962. Despite all his great achievements, the two blots of 1962 and Kashmir issue on Nehru's sherwani are irrevocable. On this, history will always remain unkind to him.
To sum it up, let me conclude by emphasising that:-
India lost the advantage of Himalayas, when China's lordship over Tibet was accepted by India. Undoubtedly, everyone knows that Nehru was a great leader but he was strung in his Moralistic and Gandhian thoughts and lacked pragmatic vision on international relations. He also had NO IDEA on National security. He thought: IF HE SAID PEACE; THERE WOULD BE PEACE! He was too confident of his charisma as a self-acclaimed world Leader.
In spite of Nehru's great achievements yet his three great blunders would haunt him in his "Shanti Van" and his generations of political heirs. It exposes Nehru's saintly ignorance of real and a pragmatic world.
The three blunders of Nehru were: firstly, accepting Chinese suzerainty over Tibet. Second was Kashmir imbroglio, when J&K had already acceded to India. There was no need to go to UNO and that too under a wrong chapter. His third biggest blunder was rejection of US offer of UNSC permanent berth. He not only rejected it but wanted China to get the seat.
It shows he was too engrossed and tied with moral and ethical strings. He had no idea of the pragmatic world. His investment in ethical and moralistic beliefs, led to his belief that India had NO enemy. Thus he preached Panchsheel and Non-Alignment.
Further, look at Nehru's confusion! Accepting Chinese suzerainty over Tibet, while Sardar Patel has written to him to stop him. But then, in 1959, he gave asylum to DALAI LAMA. Two self contradictory actions! Thereafter, it should have been realised that China would not like it and would seek revenge. Efforts should have been made to equip and strengthen army. But nothing was done.
In fact, as soon as India had accepted accession of J&K from Maharaja Hari Singh, it should have taken measures to take over Gilgit - Baltistan and Aksai Chin by stationing troops in Gilgit and Fort Shahidulla. However nothing was done. Instead issue was further complicated by going to UNO, on the advice of Lord Mountbatten.
And when in 1962, Nehru had resented Aksai Chin loss as something where not a blade of grass had grown, Mahavir Tyagi, another Parliamentarian had retorted: As I am bald should I cut my head being useless. It is not that people did not question Nehru on these matters but his towering image silenced everyone. His dislike of the army and belief in his Panchsheel and Non-Alignment had given him no time to have a practical view of the world.
Linking the above with "The Himalayan Blunder" by Brig. JP Dalvi:
'I was exhausted, hungry, unshaven and despondent.'
'My mouth was full of sores due to dehydration.'
'My clothes were in tatters due to walking through bushes and sliding down thorny slopes,' Brigadier John Parshuram Dalvi wrote of his capture during the 1962 War.
The Rediff posted an article on 22nd November 2022, "The Soldier Who Was A Chinese PoW For 7 Months" with extracts from The Himalayan Blunder, link of the same is given below: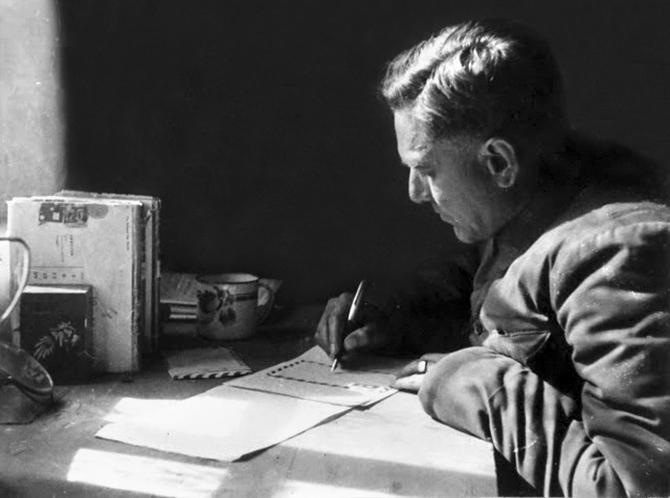 Whenever I start reading Himalayan Blunder, leafing through the pages of the book, I am filled with a sense of déjà vu. And as I read on further, drawing parallels between what was written in the book and the intriguing happenings of recent times, I wonder to myself: "Are we heading for another Himalayan Blunder...?" Opines Cdr. Vikram Karve in his review of the The Himalayan Blunder, the link of the complete review is given below:
The Himalayan Blunder had also made its appearance in the first edition of the 'Victory India' magazine in July 2020. Link of the same given below:
Released in 1969, The book Himalayan Blunder by Brig JP Dalvi, has valuable military lessons that remain valid today even after 53 years. The link of the book Himalayan Blunder is now once again given for free reading:
It is hoped that maximum readers, especially from military fraternity benefit from the above book and the valuable lessons that it offers to the Armed forces and the Nation. Courtesy: late Brig John Dalvi and Michael Dalvi
---
For more defence related content, follow us on Twitter: @MVictoryIndia and Facebook: @MissionVictoryIndia
(Views expressed are the author's own and do not reflect the editorial stance of Mission Victory India)