Editor's Note
The Dantewada Naxal Attack of Wednesday, 26 Apr 2023 on a convoy of District Reserve Guards (DRG) of Chhattisgarh Police that killed 10 cops is a grim reminder of the continued existence of the Naxal threat, particularly in Bastar district of Chhattisgargh. The last major Naxal attack was over 2 years back, on 3 Apr 2021, that brought out the skeletons of the nation's fledgling anti - Naxal response. A detailed article published by Mission Victory India (MVI) of 29 May 2021 comprehensively covered all the intricate aspects of this deep rooted menace including its history, causes, challenges, way out and forward to control and reduce its impact. MVI is now republishing this piece of 29 May 2021 with the sole aim of reviving and refreshing the points that we highlighted 2 years back. Certain pertinent questions come to mind after this repeat attack after 2 years.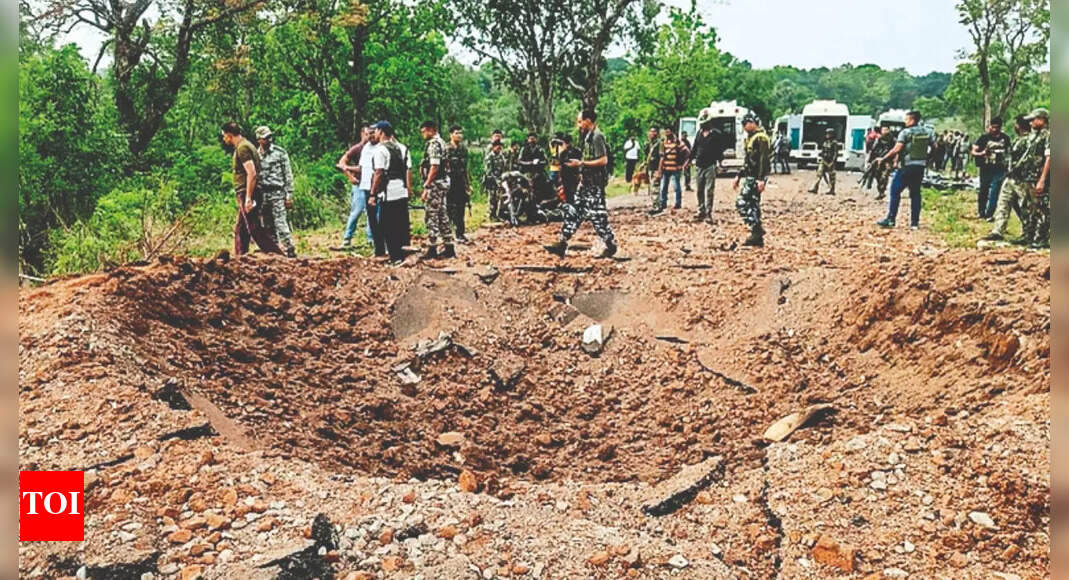 Q1. How is it that such an attack took place after a gap of 2 years?
Q2. In past 2 years what has changed in our national/state approach to address this problem?  
Q3. What steps need to be  taken in Chhattisgarh state to minimize this ever lurking threat?
Q4. During last 2 years, has the Naxal threat further reduced in the nation? What  needs to be done to further minimize it?
Q5. Having raised, set up, established and run the CTJW college at Kanker for almost 18 years and helped effectively fight and considerably reduce Naxalism in Chhattisgarh and India what message would you like to give to your successor and concerned Chhattisgarh state and central Govt agencies?          
The answers to above 5 Questions are befittingly given below by Brig BK Ponwar, Former Director of Counter Terrorism & Jungle Warfare (CTJW) College, Kanker, Chhattisgarh. We hope these answers and the republished piece will update/refresh awareness of our readers and help all concerned in tackling this national menace.
---
Answers by Brig. BK Ponwar, Ex-Director, CTJW College, Kanker, Chhattisgarh.
A1. Establishment of New Coy Operating Bases (COBs) in Naxal areas by the now trained Police kept the Naxalites on the Defensive. Many in the Naxal Senior leadership have been arrested/killed in operations few have surrendered and specifically their leader Muppala Laxman Rao has migrated to the Philippines. Their organisation required a revival by second rung leaders.
The locally recruited District Reserve Guard (DRGs) joining the Police force has irked the Naxalites.
The Massive Psychological War launched and the development by the State led to many surrenders further disorganising the Naxalites. Their leader HIDMA is young motivated and very active in the area. He spent some time planning and selecting a Soft Target. A Vehicle convoy returning with loaded State Police personnel of the DRG was suitable.
It seems the SFs let down their guard on ROPs (Road Opening Patrols) Same route return. Security Piquets along the route. An Improvised Explosive Device (IEDs) can be easily assembled and as easily activated. It just requires one person to complete the circuit to Blast the IED. So they took this opportunity to show their presence Blasted the IED to blow up the DRG loaded vehicle.
A2. Govts across the Red Corridor have focused on training their Police forces. Almost all the ten Naxal effected states sent their Staff to train at our CTJW College and replicated the same in their respective states. West Bengal (WB) took the cake in quick training after the Naxal attack on their East Bengal Rifles. Killing of Koteshwar Rao (Kishanji) the Naxal leader in WB and the Psychological War to rehabilitate the balance leadership by perspective CM Mamata Banerjee of that time towards end of 2011.
Other states who had few effected Districts too got their act together to dilute the Naxal threat.
A3. The 'center of gravity ' of the Naxal Agitation lies in Bastar and the neighbouring districts of Orissa, AP, Maharashtra & MP. Here in the core Z writ of Government does not exist. This Core Z needs to be opened early in a GRID Deployment with HQs of the Battalions in their Areas of Responsibilities (AORs) . Officers have to lead these Operations.
A4. Across the nation in a synergised effort Naxal effected districts have come down from 231 to just 25. These 25 have to be eradicated in a Multi Directional Creeping reoccupation with State Forces (SFs) in the lead followed by Development agencies for Roads Hospitals, Schools, etc. for all efforts to bring normalcy. Most Important is the Officers leadership and their coordination of operations and facilitation for  Development agencies.
A5 . It's only when the central and state forces unitedly 'fight the guerrilla like a guerrilla' that this naxal menace will end. Like the Indian Army, the officer leadership must lead this fight from the front! In guerrilla warfare 'never - ever' let your guard down. Always follow rules of guerrilla warfare strictly.
About Brig. BK Ponwar
Brigadier Ponwar has put in 54 years of service to the Nation 36 years in the Army where he fought in the Frontline against Naga Insurgents later in the 71 War in East Pakistan on axis Jamalpur- Tangail - Dacca.
Later years in Tripura to get mass surrenders to bring peace. Conducted Indo US Exercise Yudh Abhyas in Vairengte. Has lectured in many Countries and in INDIA on CI/ CT LWE operations. Subsequently  requisitioned by Govt of Chhattisgarh in the Rank of an IGP to train the Police forces where he established the Jungle Warfare College and has trained over 38000 Police personnel from across the Country in last 18 Years. Has visited most of the Naxal incidents areas to carry out case studies and lessons. Has spoken widely on the Resolution of the Left Wing Extremism (LWE) in Army and Police Establishments. A recipient of AVSM and VSM awarded by the President for devotion to Duty.
(Views expressed are the author's own and do not reflect the editorial stance of Mission Victory India)
For more defence related content, follow us on Twitter: @MVictoryIndia and Facebook: @MissionVictoryIndia