Editor's Note:
Has IAS failed the nation? A bold and forthright piece by a former RBI Governor was published by leading newspapers and magazines in Mar 2022.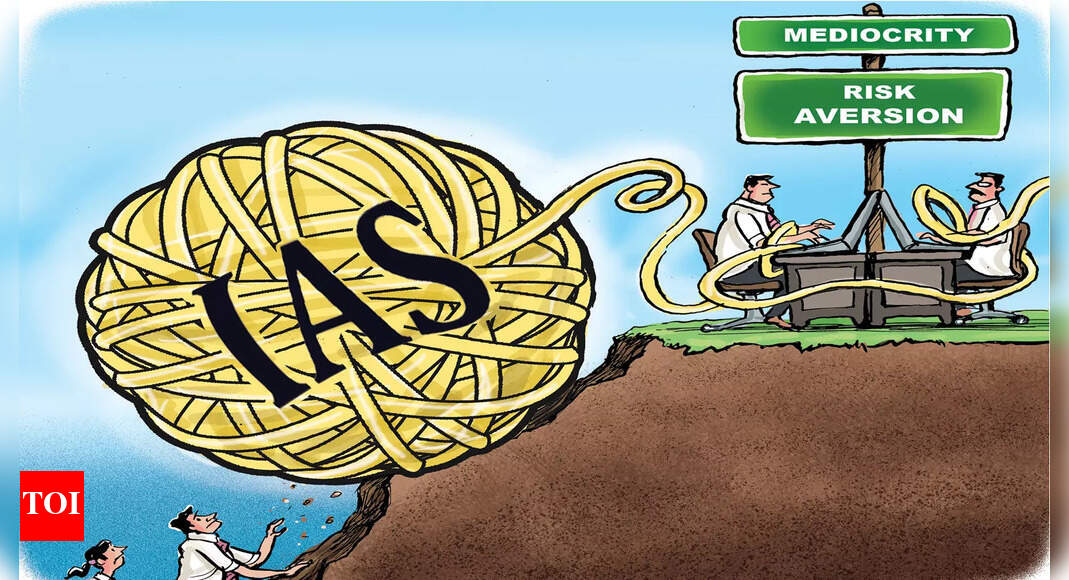 The author stated that the IAS fraternity cannot blame the politicians for their poor performance. To address the glaring shortcomings and failings of IAS another piece would be required. Apparently, that piece hasn't yet been written!
Does the above  piece have any similarity or link with the armed forces? Are the politicians also to blame for performance of armed forces? What are the glaring flaws, weaknesses or shortcomings of the Armed forces? What needs to be done to address or overcome them? Responses received from veterans answer above questions to some extent and show way out. Additional responses will surely take this debate forward.
Col Vinay Dalvi, MVI
---
Brig Pradeep Sharma
This is a very deep question. The answer perhaps lies in the development of Indian Character and evolution of a system. Our politicians at grass root levels lack the education and vision desired in leaders for building a Nation, they run riot for a five year tenure with the objective of making money in the mid term of tenure and appeasement of vote banks thereafter!
Thus ,a nexus develops between Businessmen, Mafia and Bureaucrats who actually move the files for various projects. There is no way for citizens to get the Politician removed once elected. The IAS community is a Protected lot, they cannot even be tried without Govts approval. The system itself is built by the IAS Community. Selection based on an examination which is cleared by rote, they hardly qualify as the best brains of the country, after selection they end up being trained on the job and are considered Jacks of All Trades. They have no domain expertise!
The Secretary Defence was earlier a Secretary Surface Transport! We had a secretary IT in Gujarat who was a double MA in English and later side stepped to head the department of Veterinary Services! It is believed by many that the IAS and Politicians combined have done the Nation more harm than visible to the public eye. There is a serious need to review the existing system which empowers mediocrity and ignores merit!
Further to address the question regarding the Armed Forces. Let us examine who the Armed Forces are with reference to their role.
Higher Leadership which is selected by the Ignorant Politician and Advice of an IAS officer. They tread with caution, appease the Politician at the cost of organisational interests. Many a times even National Interest.
The  next level are those at the Commands. They are seen today as in ineffective as far as protecting organisational interests are concerned. 3 Brigades are commanded by aspirants of NDC and mark time to get desired reports.
Combat leadership and troops at the Battalion/ Regiment levels have never failed the Nation or the Organisation. Does this open up the debate as to who and what levels could be questioned for any failure of the Armed Forces?
Col Rajinder Kushwaha
Armed forces and Bureaucracy have different roles and functions. As such, they were non-comparable.  I do not think we should see them through our own prism.
To make bureaucracy accountable and responsible, you have to overhaul the constitution. Can it be done? I do not think it was possible in our life times, unless major reforms are carried out in the bureaucratic set up. But how do you expect bureaucracy to go out of business or commit a 'harakiri' ? Fact is that it was the bureaucracy who remote - controls the lawmakers.
A decades back, UPA govt had set up Second administrative reforms commission (ARC) under the chairmanship of Sh Veerappa Moily. It think it was in August 2005. ARC had asked for suggestions and Ideas. Its directive was to prepare a detailed blueprint for revamping the public administrative system. In short to make bureaucracy more accountable and responsible.
I had sent a big mail to Sh Veerappa Moliy. I had recommended measures to make IAS more accountable and responsible in governance. I had given examples of security threats lapses leading to terrorist attacks. I had said instead of punishing police and security forces, why not sack Deputy Commissioners/Home Secretary, too? There was no reply. I think ARC died its own death. I had suggested lateral induction of competent people from various other professions. Never ever heard of its report. Reason is that such commissions are dominated by bureaucrats only politicians are dummies. Therefore these reports are sent to their graves.
Further, if you remember, when Rajiv Gandhi became PM in 1984/85 , he came up with a brilliant idea of delinking jobs from Degrees. But it was scuttled by the bureaucrats. It was because slaughter's knife was to fall upon bureaucracy. Even Narender Modi has tried but his efforts too proved a damp squib. In fact, he has more bureaucrats in his government so, how do you expect "Rulers of the nation" to become answerable to you? Only way is to seek drastic changes in the NEHRUVIAN CONSTITUTION / which has only one agenda to make everyone subservient to bureaucracy, including politicians.
As regards point about Armed Forces, I do not think it was correct to think that Armed forces were not accountable and responsible. When a major security lapse takes place, their neck is severed first whether it was 1962 or Kargil-99. Stories of removal of Gen PN Thapar, Gen BM Kaul for 1962 and sacking of Brig Surinder & Maj Gen VS Budhwar speak a lot. Don't forget the sacking of Maj Gen Niranjan Parsad in 1965 and many more.
There is nothing wrong with armed forces. They take their job seriously. A black sheep, here and there, do not make a herd. It is a vast organisation, many times bigger than bureaucracy. Lapses will take place. But they are handled well. If Tehleka expose took place, it was only armed forces which too corrective action but no one else neither politicians nor bureaucracy. Therefore it is unfair to club armed forces with scandalous bureaucracy and fumbling politicians.
If you really want politicians and bureaucrats to be responsible and accountable, make military service for 5 years mandatory for all Govt (state & centre) servants. Make NCC certificate "c" compulsory for all those who want to pursue political career. But all this needs Constitutional reforms! Who will bell the cat? Therefore rat race will continue.
Gp Capt Johnson Chacko
The top IAS Officer is the Cabinet Secretary, still a Secretary or Staff to a person weilding executive power. So they get away as accountability is with the politicians. They are designated as Commissioners, Magistrates, etc, they  have Judicial powers. They also generally come under a Politician.
A Commissioned Officer is the extension of the Sovereign in our case the President. He has executive, legislative and judicial powers exercised on behalf of the President. Who ruled liberated East Pakistan till it became Bangladesh?
Lt Col MK Gupta Ray
IC commissioned Officers, Indian Administrative Officers, Indian Police Service and host of other services were created to serve Indian Citizens to bring them out from the depredation of colonial rule and bring in prosperity to our new born nation.
In his address to the first batch of IAS Officers, on 27 April 1947, Sardar Vallabhai Patel told them that they formed the first batch of Indian Administrative Officers and not British agents any longer. He said - quote "I dwelt on the significance of changes mainly in order to bring home - the days when service could be master were over and Officers could be guided by a real Spirit of Service for in no other manner can they fit the scheme of things." "Along with the espirit de corps and covenant you sign to uphold its dignity, integrity and incorruptibility".
It's a very small part of the entire speech but this gives its essence. The IAS forms the integral part of the national development and internal security. If we relate the aim for which the IAS was created and what we now see on ground we will get  the answer!
In case of defence services few things are consonsiderd very important: Ensure National security and defence policy are syncronised. Concept of maximising national power in conflict situation.
Assumptions that nation can be secure only if it increases its fire power. A nation has security only when it doesn't need to sacrifice its legitimate interest to avoid the war. The Govt of India through it's Cabinet, Defence Ministry and Defence HQs executes defence policy. There must be more than 100% cohesion between all the three agencies for defence services to deliver goods as we experienced in the 1971 war. Defence services so far never failed the country when all the respective agencies coherently operated. That shows internal cohesiveness of the intra and inter services. As it is said "exception proves the rule", 1962 is an example. Recently a CDS has been created for coordinating three Defence services. Apparently conduct of defence matters is exclusive of defence services but for strategic issues which have larger connotations.
Defence services for its strategic application has to be under civil government as they are responsible for its international ramifications. But in case of internal management defence services have their respective in-house power for their functioning. These have following command categories: strategic command, at the level of army commanders and Chief, directional command, at level of Division and Corps commanders, executive command upto Brigade level. Theoretically there is no outside interference by non defence organisation upto directional level. At strategic level there would be  many extraneous considerations with national, international implications.
Now like IAS services we all can see how the defence services are being politically treated and how the internal administration is functioning.
They are undoubtedly influenced at times. The extent of personal sacrifices shown by the officers at lower and middle executive level is unparallel. At no stage our troops have shown their back. Indian Military history shows the espirit- de- corps our soldiers show and sacrifice our soldiers make for the Honour for the Regiment and the country is unparallel.
However certain aberration can not be ruled out. We would like to see same spirit and dedication, as enunciated and visualised by Sardar Vallabhbhai Patel in the IAS cader. This can only be achieved by personal integrity and love for the country and countrymen at each level. There is no other way. Only thing which can help is personal integrity at each level and at each stream. At the base level the intention is impeccable.
Neil John
The entire discussion reminds me of that song "Begane shaadi mein Abdullah diwana." We are discussing things that you and me cannot change. Forget change no one is even listening to us. IAS of all the people. We need to clean our system first.
We have a lot of issues that we need to abrogate after thorough debates and discussions. When the army commanders ask for points to be discussed at the army commanders conference we can't think beyond a few technologies that will help us fight battle, or some infrastructure issues. That too infructuous or just own formation related. People have become so unintelligent and pretentious that they think they are smart, by putting the same three year old points in a new format and font and pasting them as intelligent thoughts. Then we blame the senior leadership for not making changes.
CHANGE FOR THE BETTER IS TOP DRIVEN AND BOTTOM IMPLEMENTED CAUSE THAT 's WHERE THE NEED IS.
I had narrated this little anecdote to the commandant army war college, when he was immaturely criticising the younger generation especially the non empanelled or superseded officers and officers who hadn't made it to the higher command course.
There was this tree with many branches, and on each branch sat monkeys. The senior monkeys on the top and the junior monkeys at the bottom. The senior monkeys looked down and saw only empty heads and claimed they were brainless. The junior monkeys looked up and saw only assholes. There was pin drop silence after I said this and someone  walked up to me and said "Teri toh naukri gayi!" I still became a brigadier. The issue is that there is a huge disconnect between senior leadership and junior leadership. The main factor is approachability. There are senior officers who are just not approachable, maybe it's the aura. The offensive military bearing or just the ACC, NDA wala attitude. The juniors are equally to blame, they perceive that a man in uniform is still that strict, no nonsense, unapproachable guy out of uniform too.
We have huge issues. Promotions, Courses, ACR systems, Postings. We need to have an unbiased system of studying these issues under top leadership with  committed teams. But to say that everything isn't right is wrong itself. We have like all organisations the good, the bad and the ugly. We need to filter the dirt and ensure progressive growth.
We need to define the army of the future and redesign it. Doing away with legacy practices is a way which has been forced down our throat. Also the Agniveer scheme. Including women officers in permanence and higher ranks. Why come to this? We knew it was bound to happen some day. Why couldn't we just implement it and make it a model of futuristic thinking?
There is a need to fix study groups and chart out the way forward for each area of improvement need identified. These recommendations then need to be implemented within a time period and then validated after every 04 years. To ensure applicability and consistency.
But let's stop playing blame games. We blame the babus for our ills. I don't get a good posting, I blame the MS branch. I don't do well in a course, I blame the faculty. We love playing the blame game.
We need to have a system in place. A definite civil- military liaison cell at the AHQ. Well versed, trained and with absolute continuity to see projects are implemented in the way it was designed.
Our short term measures have made us so conscious of the visibility factor. Everything has to be in my time. That's where the fortress falls. We don't mature and tamper into an establishment of strength.
The fault lines within are dangerous and will become alarming if not addressed soon. There is a distinct focus by the present hierarchy towards inclusive growth. They are investing in projects that will fructify making our military stronger. For example, the innovation projects which was once just a senior officer visit display show ,has as now taken conscious actions to ensure that projects that would help the military are encashed upon and their productivity ensured. Another is the forward area infrastructure build up. The pace is like never before. We will reach there. I am sanguine we just need to have the continuity and the right man for the right job.
---
(Views expressed are the respondent's own and do not reflect the editorial stance of Mission Victory India)
For more defence related content, follow us on Twitter: @MVictoryIndia and Facebook: @MissionVictoryIndia