BACKDROP
The recent news of the Government's decision to direct the Army (Military) to review their military traditions (a legacy of 200 years British Rule that are  deeply engrained into the Indian Military ,especially the Army into which it is intricately linked with its culture, traditions, norms and ethos. These greatly enhance its well knit regimentation and regimental spirit across regiments and units of various arms and services.
What is it that is bothering the Government which has resulted in this order to review the  military traditions that have antagonised veterans and stirred a hornet's nest of military traditions, norms and ethos ?
What does the Government order say?
What do the Veterans feel about it?
The Government order is given in the ANI News of 20 Sep 22 as under:
https://www.aninews.in/news/national/general-news/army-begins-process-to-erase-british-colonial-past-in-line-with-national-sentiment20220920224620/
The article by Lt Col. Manoj K Channan is the Response to this News:
The article by Manvendra Singh serves as another response to the News: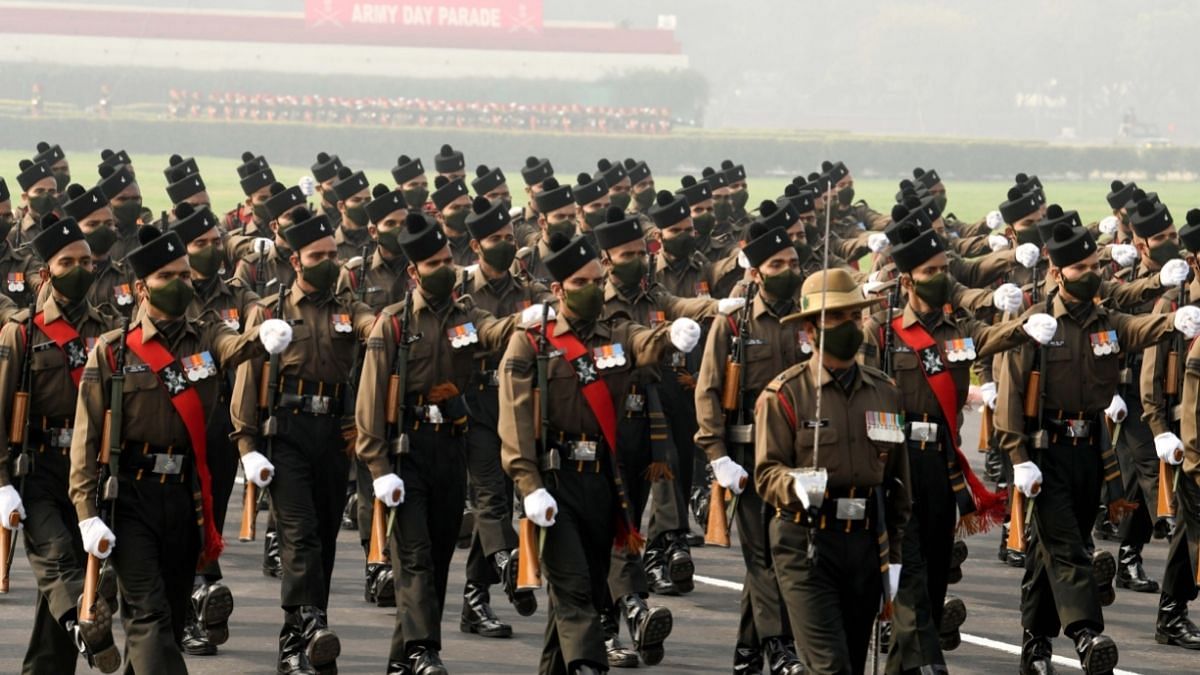 What does the order imply and what do the Veterans feel about this development?
MVI  reached out to a few select veterans for their immediate reactions which are given below:
Brig Pradeep Sharma
It appears that there is no professional work left so tampering and tinkering with ethos and culture is what keeps the army busy. Where was India and Indian Army before the British rule?
We were States and State Forces at best."
Brig DS Sarao
Why are they tampering with the Army ? It's recruitment process, and now 'colonial' names, customs, uniforms, dresses, accoutrements, practices etc.
Maybe 1st Horse or Skinners Horse will get a very familiar sounding name and the soldiers will get to wear a dhoti or vesti  as uniform or ceremonial dresses ? Incidentally, churidars and pyjamas for legwear are not originally of our culture , the style in all probability was introduced following the numerous invaders over the past 1000 years!?
Why on earth are they meddling with the one organisation in this country that should have been left politically untouched?
Maj Gen Rana Goswami
"The job of an army is to win wars and secure the nation against all threats. Only a fool will do anything which will take away that ability of any army, just to spite old colonial legacies"
Col RS Sidhu
"For the political class it is a truism that in pre-election scenarios the voter is their God, and post-election victory they fear no God. But let it not be said of the military leadership that they fear their political masters more than they fear God."
"While an organisation or an individual may opt to stay aloof from politics, unfortunately the acts of omission and commission by political leadership shall and will interfere with the organisation and impact individuals and society at large"
"The Indian military is in the throes of its biggest change .
It is but natural, that such far reaching and fast paced reforms in the military invite alarm and apprehension."
"Yet, a large part of the armed services fraternity looks forward to these changes with excitement. But when distancing the Indian Army from its colonial and foreign rule legacy is the flavour of the day, this colonial era ethos of military being aloof from the political arena too needs to be given an equally quiet burial."
Col PK Royal Mehrishi
"We were state forces before British rule .This statement  itself answers the question. Now we are not under the British. Change is the law of nature, embrace it. Rank structure( names), Roads( Auchinleck,Kitchener), Dinner Nights, Regimental Names / Insignia, Marching Tunes . Does anyone know what 'Auld Lang  Syne'  mean? So much & more."
Brig Subhash Kapila
Indian Army hierarchy seems to have got into a sorry state of situating reforms to please political masters .The political masters may not have even pressed for doing away with 200 years plus traditions. Any tinkering will ruin Indian Army like the Pakistan Army got rotten due to political ambitions of its Generals.
About a decade back  I had discussed this with Pak a former  NSA on sidelines of a Seminar in Delhi.He agreed that Pakistan Army went awry due to dispensing with fine traditions of the old British Indian Army. Glorious victories and Battle Honours won in Wars all over the world by selfless sacrifice of thousands of lives by Indian Army Regiments emerged from a Sense of Honour and IZZAT of their Regiments built over decades of fine Regimental Traditions.
Surely such elementary military reality could not have escaped the Generals giving in to  pressures for  change or their own volition to please political bosses?
Ironical that when CAPF are copying Indian Army customs traditions and  values to smarten their forces, the Indian Army hierarchy has opted to do away with Regimental Traditions of the finest Army in the world.
GOD SAVE INDIAN ARMY'S RICH HERITAGE OF REGIMENTAL TRADITIONS
What Brig Sarvesh Dangwal has conveyed in his letter to the Adjutant General will surely be echoed by many veterans and sums up the charged up spirit of veterans on this subject:
"I wonder if the office of the Adjutant General in the Integrated HQ of MoD (Army), would have been seized with the management of the type of responsibilities and attendant work which has befallen the Branchc, in a span of less than six months. While the 'Agnipath Scheme'  has not  yet been test bedded and left the blocks, the Army is saddled with yet another shenanigan of the honourable PM, which was couched in the statement of the COAS regarding shedding of colonial baggage, change of unit names, uniform and the very playing of the retreat, to bring down the curtains on the Republic Day celebrations every year. It was a suggestion (read diktat) of the PM in the Combined Commander's Conference and hence your office is drawn into the deliberations, to eke out as best a response to the proposition.
Having read the ground swell , which yet again comes from the supposed bete noire of the establishment and as it did in case of Agnipath; the fellowship of veterans, the Army will be walking on an emotional knife edge, should Regimental and Military customs and traditions be gratuitously tampered with. Let it be understood most perspicaciously, and which you do as a soldier and Col Comdt of Mahar Regt that the Indian Army fights, kills and gets killed for its Regimental, Community and Family pride . The Indian Tri Colour is representative and symbolic of that and not the politicians who govern the country, and hence mistakenly assume over lordship of the Nation. None, who has not experienced the gruesome reality of war fighting will understand the meaning of Regimentation and Regimental Spirit. The politicians and the bureaucrats are far far away from it.
A lesson from history is the torment and pain experienced by the most hated man in India, Winston Churchill when he spent sleepless nights preceding the evacuation of  3,70, 000 Allied troops of the  British Expeditionary Force and remaining French troops was achieved. He joined the British Army in 1895 and saw action in British India, the Anglo-Sudan War, and the Second Boer War, gaining fame as a war correspondent and writing books about his campaigns. He knew what war and what  its macabre reality meant. Therefore, it is suggested that WE stand up as one against this continuous interference with the Military's century's old customs, traditions, Regimental practices and from which flows its Spirit ; and hold our own in the face of political pressure and arm twisting.
We believe in the sagacity of those who are at the helm to steer the Military from such controversial issues and strive towards transformation, upgradation, optimisation and the much needed modernisation.
We veterans are a family and a sounding board for in service personnel, to help them arrive at prudent conclusions."
INVITING RESPONSES & ARTICLES FROM VETERANS
The above Backdrop and Reactions of few veterans throw some light on the Government order, what the military traditions  signify, their purpose and what the veterans feel about this development and advocate.
With a view to throw sufficient light on this disturbing news / development and what veterans feel kindly forward your well considered responses to enlighten our readers and all concerned with this subject and related issues.
Editor, MVI
---
For more defence related content, follow us on Twitter: @MVictoryIndia and Facebook: @MissionVictoryIndia